Whales and Northern Lights a journey to arctic Norway
Ever since we saw our first northern lights we are addicted to that great light show performed high above your head on clear winter nights. Taking pictures of this spectacle is not easy and it takes some preperation in order to get decent results. Let`s start with the gear. The camera should be good on high ISO settings because if not you end up with lot of noise in your picture. Noise means it looks coarse grained and rather unsharp.
Plus you need a fast lens because you need all the light you can get when shooting northern lights.
A lens with f 2.8 is very helpful in order to keep the ISO on your camera as low as possible.
There is no such thing as "the" setting for northern lights as every shooting has it`s own circumstances.
A setting that is a good start would be ISO 1000 f 2.8 30 seconds. As you see we are in manual mode when shooting northern lights. Focusing can also be tricky at night. I usually try to find a light far in the distance to focus there. Then you switch the autofocus to manual and do not touch the focus ring on your lens again.
A sturdy tripod is essential to get good results.
When all preperation is done all you can do is wait and hope the sun activity is high enough to start this magical dance around the northern skies.
With patience and luck on your side you may end up with a picture like this.
Nikon D800 ISO 1000 Nikon 24-70 f 2.8 30 seconds.
Second goal on this trip was to see Orcas roaming the fjords in search for hering. Like the northern lights it is nothing you can plan ahead. All you can do is make your preperations and hope that Orcas are in the area.
We decided to stay at Lauklines Kystferie as the boats from Explore the Arctic depart from there for their daily whale watching tours. After being cancelled three times in a row due to heavy winds, we finally got our chance . The boat left right at sunrise 10 am and we stayed out till sunset at 2 pm. It was just amazing how many groups of Orcas we encountered. They seemed to be everywhere. It was an experience of a lifetime for us to see these beautiful creatures right next to the boat.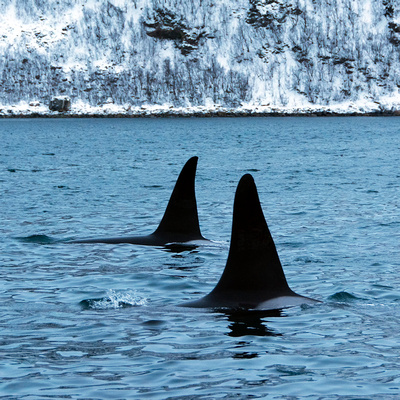 Taking pictures is not easy as the boat is bouncing, the Orcas are moving and the light conditions are more twighlight than actual daylight conditions this time of the year. Shooting moving objects the main focus is shutterspeed. This will determine all other settings. I tried to shoot with 1/90 or faster. Using the Nikon 18-200 tele lens i had to use f 4 as my aperature setting. With shutterspeed and aperature determined i had to raise the ISO to 800 to get a correctly exposed picture.
The weather can be an issue in winter when storms are common.We were forced into our cabin for three days in a row when heavy wind and snow made it impossible to go out. But when the weather turns for the better you will experience a soft light that makes a winter trip to the arctic an unforgettable experience.
Thanks to Lauklines Kystferie and Mefjord Brygge for great accommodation.
And thanks to Explore the Arctic for a fantastic whale watching tour.
February 2017
https://500px.com/peter-heil